The 10th Most Poptastic Single of 2012
Carly Rae Jepsen – Call Me Maybe

Part pop star, part frog
Released: 30th March
Writers: Carly Rae Jepsen, Josh Ramsay, Tavish Crowe
Trivia: Call Me Maybe may be considered 2012's pure pop anthem, but it was actually produced and co-written by the whiney lead singer of one of Canada's biggest rock bands, Mariana's Trench.
Best bits: 1. Hey, I just met you, and this is crazy, but here's my number, so call me, maybe?
2. Before you came into my life, I missed you so bad, and you should know that, I missed you so, so bad
3. Where you think you're going, baby?
The 9th Most Poptastic Single of 2012

Can anyone read her t-shirt?
Released: 17th February
Writers: Shellback, Savan Kotecha
Trivia: Astro, the teen rapper who featured on the UK version of Want U Back, was ironically removed from the US version. He is currently the only X Factor US contestant to have a UK chart hit, and I think it may be some time until that changes.
Best bits: 1. UGH!!
2. Boy you can say anything you wanna, I don't give a shh, no one else can have ya
3. Does that sound like a helicopter?
The 8th Most Poptastic Single of 2012
Taylor Swift – We Are Never Ever Getting Back Together

Wasn't she wearing that shirt yesterday?
Released: 14th August
Writers: Taylor Swift, Max Martin, Shellback
Trivia: Taylor Swift + Max Martin + Shellback = How could this ever be any less than amazing?
Best bits: 1. Wee-ee are never ever ever ever getting back together… like, ever!
2. You would hide away and find your peace of mind, with some indie record that's much cooler than mine
3. I say "I hate you," we break up, you call me, "I love you."
The 7th Most Poptastic Single of 2012
Owl City ft. Carly Rae Jepsen – Good Time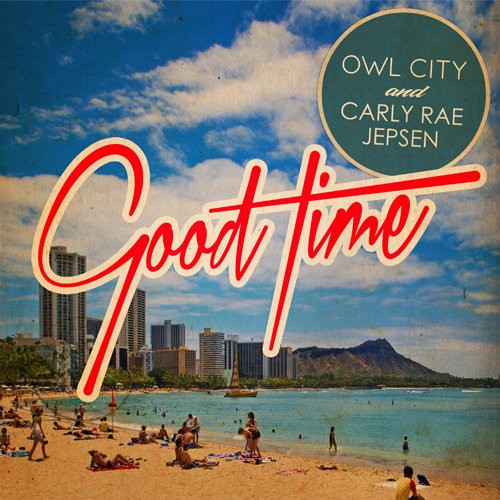 Can owls live in cities?
Released: 31st August
Writers: Adam Young, Matthew Thiessen, Brian Lee
Trivia: Carly Rae Jepsen niftily avoided becoming a one hit wonder by hitching a ride back to the charts with Owl City, who at the time was a one hit wonder himself. Will this trend continue in 2013? Will we see PSY collaborating with Crazy Frog? Sam and the Womp featuring Nizlopi? I wouldn't bet against it.
Best bits: 1. Woah-ohah-ohoh-oh-ohoh, woah-ohah-ohoh it's always a good time
2. Doesn't matter when, it's always a good time then
3. We don't even have to try, it's always a good time
The 6th Most Poptastic Single of 2012

Inna is the girl (just so you know)
Released: 17th June
Writers: Sebastian Barac, Marcel Botezan, Radu Bolfea, Inna
Trivia: Crazy Sexy Wild is definitely the least known song in my top 10. In fact, I am yet to encounter anyone else who likes it. What is wrong with everyone? This is pure pop brilliance!!
Best bits: 1. You and I, we're dancing 'til we die, crazy sexy wild, we just wanna let it out
2. Move to the right, up and down, crazy sexy wild, move to the right, pump it loud, crazy sexy wild
3. Touch my body with the music, baby you know I want it