Future Pop is a weekly email featuring the hottest new pop songs and artists that you need to know about. Subscribe here then read on, listen up and make sure you tweet me @poptastic to let me know what you think of my picks!
Future Stars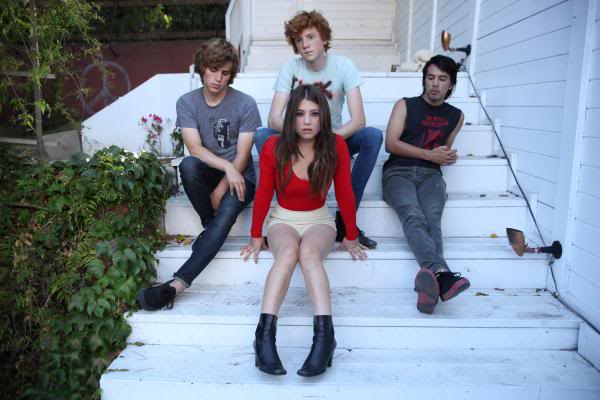 Kitten are being tipped as the next Yeah Yeah Yeahs, and as with Karen O most of the attention is focussed on lead singer Chloe Chaidez, especially as she is just 17. Chloe joined the band when she was 15, and that was only after she'd had a brief TV acting career and decided it wasn't for her. Kitten make cool indie electro-pop with breathy yet sassy vocals. They posted the video for their new single
Cut It Out
last week, which could be their breakthrough hit, although I preferred earlier track
Kill The Light
. Whether or not Kitten succeed, Chloe is definitely one to watch.
Posh teenager Lewis is basically the singer-songwriter version of Conor Maynard. He has been given a record deal off the back of a large YouTube following, but he wouldn't stand a chance of being signed otherwise. He is somewhat cute and somewhat talented, but not especially either and when it comes to originality he makes his borepop predecessor Ed Sheeran seem innovative. I want to support new young UK talent, but it's for precisely that reason that it annoys me when real commercial and artistic potential is overlooked in favour of YouTube hits. Maybe I'm missing something? Give him a listen and let me know!
Brother/sister duo Wild Belle have been one of the biggest indie buzz bands of 2012 and finally signed a record deal with Columbia earlier this month. They may be huge with Hype Machine types but I think pop fans will also get on board, at least if catchy reggae-influenced single
Keep You
is anything to go by. As with Kitten, it's female lead singer Natalie Bergman who'll be getting all the attention in Wild Belle, with
The Guardian
even calling her "the new Lana Del Rey" and her fashion sense acclaimed by style bloggers and magazines such as Vogue.  
Future Hits
I've been learning more about K-Pop recently, so this week's playlist features five songs from the Korean pop scene that I think could be crossover hits in the western music markets:
Tracklisting:
2NE1 – I Am The Best
B1A4 – Beautiful Target
BIGBANG – Fantastic Baby
Girl's Day – Nothing Lasts Forever
Girls' Generation – Paparazzi
Thanks for reading – I'll be back next Monday with more Future Pop! In the meantime don't forget to
email
and
tweet
 me with your thoughts on the songs and artists above, and any suggestions for next week. Plus it would be great if you spread the word about Future Pop to anyone you think might enjoy it and encourage them to
subscribe
for more.