Today's Hidden Gem is…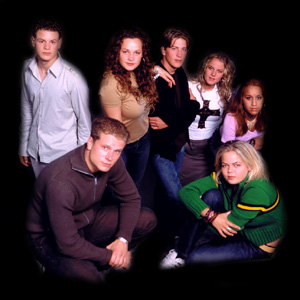 Who The Hell Are You?
They are K-otic. (L-R) Top row: Bart, Anna, Martijn, Rachel, Bouchra. Bottom row: Stefan, Sita. They're a Dutch pop band who were created on a kind of Fame Academy meets Popstars TV show named Starmaker. Originally there were 7 members chosen by the public, who also chose their name (K-otic was comparitively sane so it won) and then they released some singles, Damn (I Think I Love You), I Can't Explain, I Really Don't Think So and No Perfect World. As well as this, Sita and Bart released a duet called I Was Made To Love You. This came about because Bart fancied Sita during Starmaker but she had a boyfriend, Martin. A while later Bart ended up dating Anna! Still with me? Next, Sita was voted to release a solo single which turned out to be Happy. It was very successful in Holland and Sita chose to leave K-otic and concentrate on being a solo star. Meanwhile, K-otic released a second album, Indestructible, in Holland and some more singles; Falling, I Surrender and I Don't Understand You. Sadly K-otic split up in 2003 and released a slightly less ace single, Tears Never Dry.
Why Are They A Hidden Gem?
I first came across Sita on MTV Hits and became a fan of hers, wanting to know all about her. I soon learned that she had been in a band, K-otic, and had to investigate further. Within days I had fallen in love with them and ordered their album which is one of my favourites of all time. They make pop music which is varied and slightly different sounding to UK bands – they are poptastic but also unique.
What Is Their Music Like?
Each member has their own style. There's Martijn the rocker, ballad boy Stefan, Rachel has country influences, Anna and Bouchra bring a hint of r'n'b into the mix while Sita and Bart are rock-poptastic!
Where Are They Now?
Unfortunately K-otic split up in 2003 but some members are persuing solo careers. Sita has released 2 albums and 4 singles, Rachel is working on some dance tracks and country songs in the Dutch language and Stefan some rocky ballads.
I Want To Know More!
Here's some handy links:
If you want to buy the albums go to Free Record Shop where they are scarily cheap and well worth it!