No, I haven't forgotten how to spell the Europop event of the year. This post is not about Eurovision. It's about Eurevision – Eurovision from the past ie. revision! Here are a few of my favourite Eurovision entries from the past:
Gina G – Ooh Aah, Just A Little Bit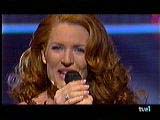 Country: UK
Year: 1996
Best bit: "Just a little bit! Just! A little bit more!"
Place: 7th
Fact: Gina is releasing a new album soon through her web site and it actually sounds very good!
Antique – I Would Die For You
Country: Greece
Year: 2001
Best bit: "No-one else could ever love you like the way I do!"
Place: 3rd
Fact: Antique singer Helena Paparizou is back this year representing Greece again with the song No.1.
Abba – Waterloo
Country: Sweden
Year: 1974
Best bit: "Woah-woah-woah-woah-Waterloo!"
Place: 1st!
Fact: I'm going to see Mamma Mia (for the 2nd time!) soon. Sad but true!
More Euro-aceness to come!