Precious – Say It Again
Country: UK
Year: 1999
Best bit: "Say it say it say it say it say it say it"
Place: 12th
Fact: We all know what happened to Jenny next but Anja and Sophie are also still around as a model/Duncan from Blue's (ex?)girlfriend and a CBBC presenter respectively.
Anjeza Shahini – The Image Of You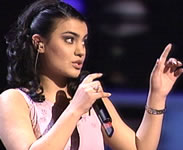 Country: Albania
Year: 2004
Best bit: "I'm queen of the world of make-believe!"
Place: 7th
Fact: Watch this video and try not to die of laughter. You'll be pleased to hear the final version was much more professional, but not half as amusing.
Lena Philipsson – It Hurts/Det Gor Ont
Country: Sweden
Year: 2004 (joint fave song of the year with the above)
Best bit: "I wish I could be stronger, no longer afraid"
Place: 5th
Fact: Lena's current album is called 'Det gör ont en stund på natten, men inget på dan'…perhaps we'll just stick with 'Det gör ont'.