One of my Twitter followers, @DannyBlahBlah, suggested I track down Phixx for my first Whatever Happened To post, and I was very interested to see what I might find as the One True Voice rejects were one of my favourite reality TV bands. Andrew Kinlochan, Mikey Green, Peter Smith, Nikk Mager and Chris Park all made it to the top 10 boys in Popstars: The Rivals, the show that gave us Girls Aloud, Clea, Javine, The Cheeky Girls and One True Voice.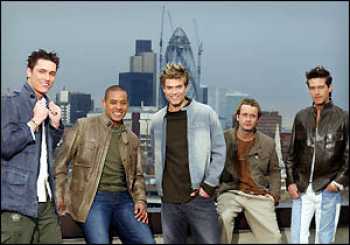 Although it's not the greatest compliment, Phixx actually did manage to outlive OTV, releasing four top 20 singles – the fantastic Hold On Me and Love Revolution, the rather good Strange Love, and a totally pointless cover of Wild Boys by Duran Duran. Their demise was gradual with Peter leaving, followed by Nikk, leading to the eventual break-up of the band at the start of 2006. So what are the boys up to now? Let's see what I can find out!
Nikk has made the most appearances in the media since Phixx split, as he famously failed to make it through the first round of X Factor in 2008. Since then he has become a member of The Chippendales, making a few TV appearances to promote their show Here Come The Boys, and he has also appeared at several Pride festivals this year.
Mikey, who was best known for dating Sarah Harding and resembling David Beckham, has assumed many identities since Phixx. Under the name of Michael Scott he set up a MySpace with a few songs which showcase his lovely voice. He also joined a rock band called Pentasonic, within which he was known as Mic Steel. They seem to have given up but still have some songs on their MySpace, which unfortunately are quite rubbish.
Chris hasn't done much musically since Phixx, but did create his own Jackass-esque TV show called Sprung in 2006. It didn't amount to anything, but he persevered in finding work as a TV presenter and has since appeared on late night show Quiz Call Live on Channel Five (him and everyone else – including Russ from Scooch!).
Andrew was my favourite member of Phixx. He was kind of like the Joe McElderry of Popstars. He is the only one I've managed to find on Twitter, but his tweets don't give much away about what he's doing these days. He says he is looking to restart his career and posts a few songs, which you can hear here. Despite being very outdated, they do show off his strong, soulful vocals. It would be great to see him making use of his talent so let's hope he finds work as a singer soon.
Peter caused controversy on Popstars, since a) he already knew Louis before the show from an appearance on Irish Popstars, and b) he dramatically admitted halfway through the series he'd lied about his age (he was too old to enter the show) and voluntarily left. Like Mikey he has joined a terrible rock band, SilverSky, but they haven't done anything for the past year.
So that's what Phixx are up to, or at least what I can gage from an hour's online stalking. If you know any more please leave a comment!