Even when the bands featured in The Big Reunion were still famous, I used to look at posters for Here & Now tours and dream of the day when I could see all the biggest acts of my youth at one concert. And last night, the dream came true! I got the chance to see 5ive, B*Witched, 911, Blue, The Honeyz, Atomic Kitten and Liberty X all in one poptacular night out. As a true '90s pop obsessive, for me this was the equivalent of how most people would feel seeing Elvis, The Beatles and Michael Jackson all reformed/back from the dead. Basically, I was very excited!
The running order was unexpected, as instead of each act performing a separate set, they took turns to do a song or two then introduce the next group. In the end everyone did three or four songs. The show began on a high as most of the artists did their best known song first. We were greeted by 5ive, who sang We Will Rock You, going into Everybody Get Up, and the audience followed orders. The floor was shaking because everyone was doing all the dance moves, even at the back. This was followed by C'est La Vie, Bodyshakin', Just a Little, Finally Found, All Rise and Right Now – so many good songs in fact that I was slightly worried that might be all we were getting!
Luckily the show did continue, lasting around two hours in total, and we heard all the big favourites. Here's a review of each act, including a full list of the tracks performed:
5ive –  We Will Rock You/Everybody Get Up, Keep on Movin' and If Ya Gettin' Down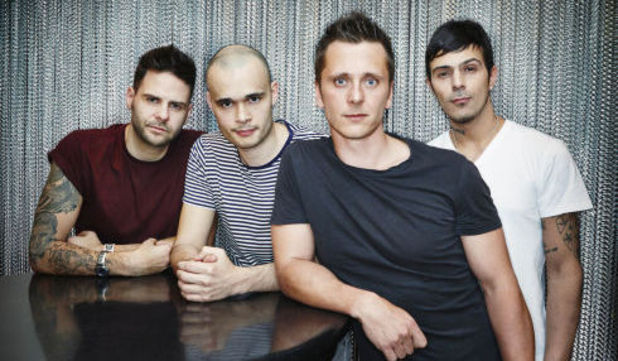 5ive, or 4our as Abs attempted to rename them, performed without J, but it made no difference as they were the clear hit of the night. All of their songs are perfect for a live show as they're energetic, catchy and have simple dance routines that got the crowd joining in. Abs took over J's raps, which meant he had the most to do, especially on If Ya Gettin' Down. If they decide to do a tour without the rest of the acts in the future I would attend, which I don't think I'd say for any of the others, as there were still lots of songs I wanted to hear that we didn't have time for.
Atomic Kitten – Right Now, The Tide Is High and Whole Again
Before each performance we saw a video of the band being silly or talking about what the reunion meant to them, and Atomic Kitten came across as mumsy and trying too hard. It felt like we were watching Loose Women, not a pop group! Their three songs stood the test of time fairly well and even Kerry managed to sing a bit, but it seemed more like Kerry had been interchanged into the second Atomic Kitten line-up, rather than a return to the cheeky Liverpudlian ball of energy that they were when they began.
The Honeyz – Finally Found, Love of a Lifetime/End of the Line and Won't Take It Lying Down
As I was expecting, The Honeyz were very obviously the least anticipated act on the line-up. In fact, many people sat down for a rest when they came on stage! I resolutely stayed standing, and was really impressed with their performance. They had the best group vocals of the night, and Finally Found and End of the Line in particular still sound great. They even had an air of Destiny's Child when they sang Won't Take It Lying Down. I think they must only have chosen Love of a Lifetime as it's a song Mariana originally performed, because it was a bit dull.
B*Witched – C'est La Vie, Rollercoaster and Blame It on the Weatherman
B*Witched were another favourite of the night for me, as out of all the acts they were the group I was most into when they were originally out. I even had a B*Witched calendar! C'est La Vie was a brilliant sing-along/jig-along moment, and Blame It on the Weatherman sounded really strong. I always preferred To You I Belong as a B*Witched ballad, but now I think I might love them equally. Seeing the Rollercoaster dance move live was another big highlight. If B*Witched did their own tour and just performed their debut album, I'd definitely be there!
911 – Bodyshakin', A Little Bit More and More Than a Woman
Feeling sorry for Lee from 911 seems to be a general theme among The Big Reunion viewers, after the heartbreaking story of his split from Lindsay B*Witched and going through cancer twice as a kid. He should be loved without pity though, as he is such a good pop star he single-handedly makes up for Spike and Jimmy's striking rubbishness. He has a great voice and sounded just like the records, even when dancing (and he is 39, unbelievably!). He was wearing the most adorable braces too… presumably to hold up his trousers as he's so tiny.
Liberty X – Just a Little, Thinking it Over/Got to Have Your Love and Being Nobody
Liberty X were one act I wasn't that excited about, as I was older when they were first around, and if anyone from Popstars was to appear I would have preferred Hear'say – one of my many requests for series two, if there is one! I enjoyed the garage throwback of Thinking It Over and Being Nobody still sounds very strong (thanks to Richard X!) but overall their songs don't have the pop joy of the other acts' hits, and this wasn't a night for playing it cool. As usual, the girls stood out the most while the boys didn't contribute much.
Blue – All Rise, Sorry Seems to Be the Hardest Word and One Love
Blue were a late addition to the line-up, and since they've been seen in the media over the past few years it didn't really feel like a reunion, or even a comeback. Like Atomic Kitten, they seemed to be trying a bit too hard, which may be connected to both groups not having been out of the limelight. Their career is still in the rear view mirror, and while for the other acts success is ten years away, they haven't quite been offstage long enough to let go. However, it was good to see them doing the old songs, and I would have liked to hear more from the first album.
Click here to see professional photos of all the acts on stage, and here for loads of fan photos from Instagram.
The energy at The Big Reunion was electric and you could tell that it was emotional for the acts. As a fan and a believer in giving pop stars second chances, I was really happy to be present and part of this unique occasion. I'm sure, since the ITV2 show and the gig seem to have been a success, there will be lots more reunion shows and comeback tours featuring acts from this era in the future, and I'll probably be present at most of them, but this was a special moment. It felt like we, as an audience, were collectively accepting that we aren't kids anymore, but we can still act like it and relive our younger days without shame. It can't be that uncool to fail at Irish dancing to C'est La Vie when 3000 other people are doing the same, can it?