Girls Aloud are on hiatus, the Sugababes are on the verge of being dropped (for the third time) and The Saturdays aren't even getting no.2s anymore, let alone the no.1 that's always eluded them. Evidence would suggest that now is the perfect time for an amazing new girl group to step in and take over Planet Pop. However, over the past two years we've seen girlband launches of every conceivable kind (Parade, Soundgirl, Girls Can't Catch, Dollyrockers, RD, Mini Viva, Belle Amie…) and although some of them have had a bit of TV and radio coverage I'd be surprised if the average person on the street had heard of even one of these bands. So will this gaping girlband hole be filled and if so who is going to fill it? And can they hurry up? This is a pop emergency!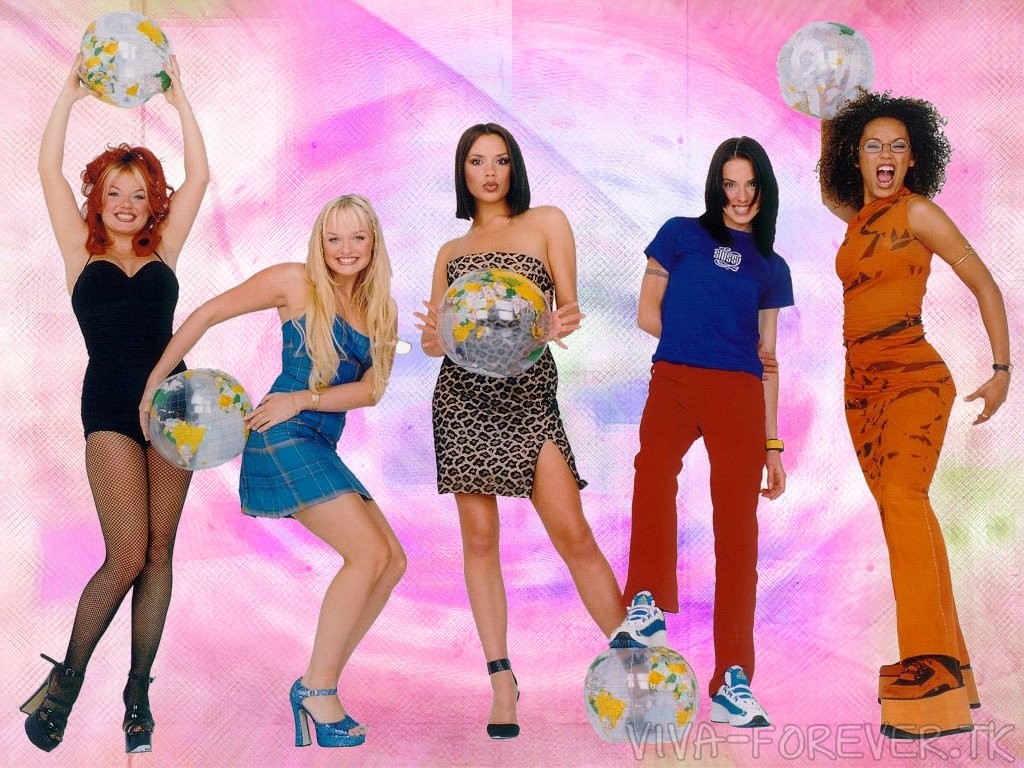 To work out how we might be able to solve this traumatic issue we must, as usual, look back at the pop of the past. The biggest British girlbands in my lifetime have been the Spice Girls and Girls Aloud, both five piece groups where each member stood out individually yet would never be seen without her gang of girls (until the "hiatus", obviously). We'll call this type of girlband Type A. These bands are all about having fun with your mates and their music fills that purpose too. It's music by girls for girls, and when it connects it has the potential to genuinely change the world. Similarly, the biggest international girlgroup of my lifetime, Destiny's Child, wove strong female empowerment messages into party anthems. If it was my choice, I would absolutely love for a new Type A girlband to come along right now, but as acts such as The Saturdays and Girl Thing have shown this phenomenon can't be easily manipulated.
Although I don't think they have the potential to connect in as big a way as Type A, there is another type of girlband who can be extremely successful. These bands, who I shall call Type B, are the alternative girlbands, whose appeal works in two ways: 1) Girls like them because they're not intimidatingly glamorous and suggest any girl can be in a girlband, 2) They are considered acceptable by cool-driven media such as Radio 1 and the music press. Individually these factors aren't that powerful, but combined they have proven enough to propel acts such as All Saints and the Sugababes to the top of the charts. These alternative groups tend to flourish at around the same time as a major Type A group, but in All Saints' case they followed the Spice Girls, providing a calmer, cooler equivalent, while the Sugababes' edginess gave Girls Aloud the opportunity to present the public with a more light-hearted option.
While Type A and Type B represent the most successful girlbands we've seen in the past two decades, there are plenty of other categories of girlband which can wield at least a one or two album wonder. The girlband-for-boys (e.g. Pussycat Dolls, Paradiso Girls), the girlband-for-mums (e.g. Dixie Chicks, Wonderland) and the trend-of-the-time-girlband (e.g. Mis-teeq – UK garage, The Faders – punk-pop) are just a few examples. As a girlband really is just a band made up of only girls, you could even call non-pop acts such as Hole, Salt N Pepa or Escala girlbands, though personally I'd rather save the title for those who appreciate it.
Of the recent slew of girlbands, we've had a mixture of attempts at Type A and Type B, and some such as Parade and Mini Viva who got off to a good start but suffered by being stuck in between the two, a confusing proposition when it comes to the point after the first hit single where the public are meant to get to know the band. If the music, the image and the personalities don't fit together there's no group identity for the public to buy into, and since pop groups function more like brands than any other type of music act, this is likely to be a fatal flaw. I believe for a new girlgroup to succeed, whether they are Type A or B, they need to know which type they are and run with it. But they also need to bring something new to the girlband genre because pop may work in patterns, but pop fans are cautious about who they'll put their bet on and no-one's going to pick a tired old cliché when they can have the new generation of exciting pop sensations.
We're certainly not short of contenders to fill the role of the 2010s' great girlband, and the job may or may not go to one of the current contenders. The WooWoos are in with a shot at Type B, and maybe even Parade could turn things around and be the Type A phenomenon I've always believed they should be. We must remember that both Girls Aloud and the Sugababes took a few albums to warm up. Perhaps there's an amazing new group just around the corner, or it could be that we've still got a while to wait for our next major girlband fix. But with Girls Aloud set to make a big comeback in 2012, I'm hoping that they'll get the public in the mood for a girlband revival, just like Take That's re-emergence signified the end of the 2000s boyband drought. Come on girls, the future of female pop is resting on your return!