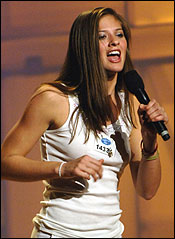 Remember Ayla from this year's American Idol? Well, probably not, but I suspect a few more of you remember the late 90s girlband Hepburn, and their single I Quit, which Ayla has borrowed to release as her own debut, along with 2 Ruby Amanfu songs, Sugah and Know You Better. I'm sure Hepburn would be flattered that their song was still considered hit-worthy so many years later, even if it is very unlikely to be a success this time around.
The brilliant Canadian duo Dragonette are finally getting some recognition in the UK, as Tina's (sadly not widely credited) song with Basement Jaxx, Take Me Back To Your House, is out today and on the Radio 1 b-list, and they recently played a very well-received concert in London (which I annoyingly only found out about just after it happened) with two more planned next month.
Speaking of ace pop lady singers appearing on dance tracks, Luciana from 90's girl group Crush (also featuring Donna Air) and 00's dance-rock-pop act Portobella is having quite a hit at the moment as the singer of Bodyrox's new single Yeah Yeah. I just don't understand why this song is a hit when Covered In Punk, Portobella's amazing debut single, got nowhere at all!