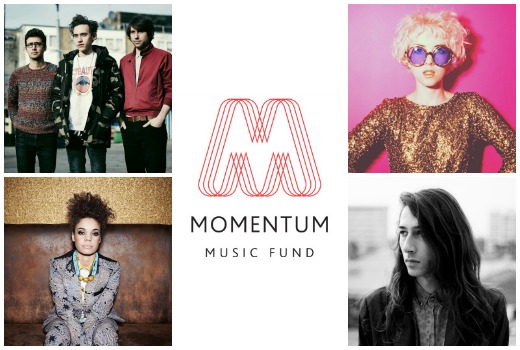 A few weeks ago I got a really cool opportunity, to be part of the judging panel for the PRS for Music Foundation's Momentum Music Fund. PRSF offer several different funds for artists at various levels. The Momentum Fund is for those who already have a buzz about them and a growing fanbase, but need some financial support to push them forward to the next stage in their career. The types of activities the Momentum Fund can put money towards include recording, touring and promotion, and artists of any "contemporary popular genre" (e.g. pop, rock, indie, hip-hop, dance) can apply. The fund was launched in 2013 in collaboration with Deezer, and it has so far supported acts including Years and Years, Kindness, Andreya Triana, Femme, Amplify Dot and Lonely The Brave.
My role as an advisor was to meet with PRSF and other music industry types to review the latest round of applications. We each spent hours looking through the applications beforehand, picking out our favourites, and when we met we discussed who we thought should receive the funding and why. It was a tricky decision, especially when it came to the artists who were making great music but whose proposal for how they would spend the money was not clear or convincing. However, it was a very nice feeling to know that we could help talented people further their careers, and even for the ones who we couldn't offer any funding, we tried to give some useful feedback. The artists we chose to receive funding will be announced this Friday.
The reason I'm writing about my experience with the Momentum Fund now is because the deadline for the next round of applications is next Tuesday, 28th Oct. It struck me while taking part in the judging process that there were so many artists who could benefit from the Momentum Fund who might not even realise they were eligible. It's not just for new artists – even those who have achieved success or have a record deal can apply. Applicants are judged on what they plan to do with the funding and, based on the quality of their work, their team, their attitude and business sense, the panel assess who would put the money to the best use. Of course, the ultimate aim is to see Momentum artists go on to have successful careers, and make a contribution to the UK music industry, thanks to the opportunities that PRSF's financial support has opened up for them.
If you think you or an act you work with might be a suitable candidate for the Momentum Fund, click here to find out more and make sure you get in touch with PRSF with any questions. Good luck!