It always makes me nervous when an artist I've loved for years decides to take a new direction, but sometimes it's the only way to salvage a dying career. Darin Zanyar, probably the biggest male popstar of the last decade in Sweden, has always been ahead of his time. He started working with RedOne back in 2005, and together they developed the infamous RedOne sound, which has been so successful in the past few years that the charts are now filled with imitations. Darin was the guinea pig for a new R&B-electro-pop style which fills the charts all around the world five years later.
However, RedOne's new-found super-producer status didn't do wonders for Darin's career, as you might have expected. They did make another album together, Flashback, which included the brilliant Kat DeLuna duet Breathing Your Love. This song could have done well internationally if RedOne hadn't been quite so quick to rip it off completely when he wrote the song Taking Back My Love for Ciara and Enrique. It was no surprise that no-one was interested in a track by two unknown artists which sounded so similar to one that had just been a huge hit, even if it was the original version of the song.
The rest of the Flashback album was mixed – some very good tracks, but it paled in comparison to Darin's fantastic first three releases. As the world became full of Darin imitators, it felt like even Darin had become an imitation of himself. Clearly the aim was to catch a ride on RedOne's coat-tails, but it's a sad fact of life that Scandinavian pop acts find it extremely difficult to achieve international success despite much of the best and biggest pop music being written by Swedes. Unfortunately, now that everyone was being Darin, Darin himself was no longer unique, and even the Swedes weren't that interested in him any more. It was time for a change of direction.
The first sign of the new Darin was his appearance on last year's Swedish Idol series. He performed a cover of Viva La Vida by Coldplay, turning an average adult-contemporary song (you can't call Coldplay indie) into a brilliant pop song. And it wasn't just me who loved it – the Swedes welcomed Darin back into their hearts and put Viva La Vida at the top of the charts for several weeks! It may have always been Darin's intention to go in a more ballady direction for his next album, or it may have been because of Viva La Vida, but this new lease of life Darin's career had been given meant it was the logical step to prepare a new album in a similar vein.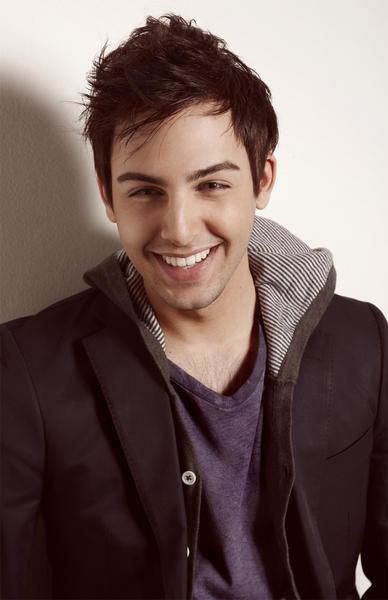 2010 brought another Darin landmark as he participated for the first time in Melodifestivalen, the selection contest for Eurovision which is a huge deal in Sweden. I was a little disappointed that putting a song forward for Eurovision didn't bring out Darin's poptastic side, but in hindsight the ballad he did submit, You're Out of My Life, worked well as a taster for his new album, Lovekiller. I must admit the idea of an album of ballads from Darin made me very nervous, as ballads had never previously been his forté, but the two singles he released prior to the album, Can't Stop Love and Lovekiller, were easily the two best ballads he'd ever done. Lovekiller especially is one of the best singles of this year so far and a great showcase for Darin's vocal talent, which he never had much chance to demonstrate in his upbeat r&b-pop numbers.
These two singles, along with new release Microphone (another sing-along power ballad, but with an electro twist), made me much more optimistic for the album. It was finally released today and I've spent this evening getting to know the tracks. There is definitely an imbalance toward slowness and the album would really benefit from more in the vein of the only truly poptastic track, Be Careful With My Heart. Some of the samey ballads could have been swapped for upbeat numbers to give the album a little more variety. Darin has been responsible for so many amazing party pop songs in the past it's sad to miss out on that side of him this time around. It's a worry when one of the poppiest tracks is a Coldplay cover!
However, we should focus on what is here rather than what's not, and I can't fault any of the songs on this album. The only two I'm not bowled over by are I'll Be Alright and Endless Summer, as I prefer my ballads as wail-along drama-fests rather than contemplative and earnest. I love a good power ballad and there's a great selection of them here, reminding me somewhat of Nick Lachey's unexpectedly excellent second solo album, which was also pretty ballad-tastic but, much like Lovekiller, the tracks managed to be consistently interesting and enjoyable. Considering I've been telling anyone who'll listen that the main writer of Nick's second album, the fantastic Emanuel Kiriakou, should write for Joe McElderry, it makes sense that Darin himself has written a song for Joe's upcoming album! I really hope we get to hear it.
It's easy to dismiss an artist when they make a distinct change in direction, but when that artist is one of Sweden's favourite pop acts, you can be pretty confident that whatever direction they take they will remain poptastic. This isn't the music I've loved Darin for since 2004, but if it was a new artist I'd be very impressed, so it's only fair to give Darin as much credit. There's no Insanity or Money For Nothing here, but there is a Lovekiller and a Drowning and much more too. This is what Darin needed to do to win back the Swedish public, and if he hadn't there may have been no new Darin music to write really long reviews of ever again! And then what would we do?