This weekend I attended The Great Escape Festival down in Brighton, and although the music is quite indie overall it's definitely my favourite festival. There's so much choice that you can curate your own unique festival experience, and it's a chance to see some of the acts everyone is talking about and make your own opinions about them. Here are my top 10 favourite performances I saw:
Bastille were the band that got me back into indie-pop last year and I believe they could lead a revival of quirky DIY pop in 2012. Their songs have a unique folky electro-pop sound but the songwriting is as good as the best of current chart pop. The songs work really well live as they're instantly catchy, and Dan (the main man behind Bastille) performs them with passion and charisma. Their quirky covers of Corona's Rhythm of the Night and What Would You Do by City High also helped to win over those in the crowd who hadn't heard of the band before.
When celebrities decide to become musicians it's usually embarrassing for all corncerned – see Katie Price for reference. People will expect Pixie Geldof's new band Violet to be a try-hard vanity project, but actually she's an extremely talented singer and her experience of being in the spotlight from a young age gives her confidence and charisma on stage. Her songs were cool but still had commercial potential, and Pixie makes a great pop star. I'd be a fan of Violet if their frontwoman was unknown, so I will ignore my prejudices and give them my support.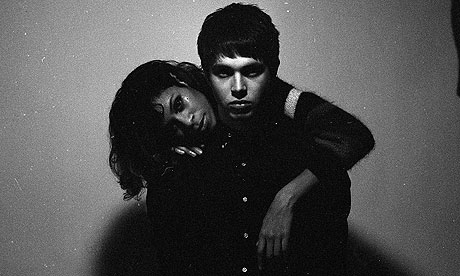 Like many artists I saw at The Great Escape, I'd previously featured AlunaGeorge in my Future Pop mailer so had to check them out live. It was one of the most hotly anticipated gigs of the festival, and it was interesting to see an audience who clearly weren't normally listeners of urban music. It's cleverly produced electro-R&B, which gives indie kids an excuse to like it. However, I'm not sure how far an act making R&B music targeted to indie fans can actually go. They may end up not quite fitting into either world, but from a pop fan's perspective they're a very interesting proposition.
Riding on a current wave of hype, Friends were a very popular band at this year's festival and there were big queues of hipsters and industry types trying to get in to see them. I felt that the songs I already knew were miles ahead of the other tracks they played, but I do love I'm His Girl and lead singer Samantha is a great frontwoman. Not only did she spend much of the gig singing from the middle of the crowd and serenading audience members, but her costume included some rather elaborately made bunny ears. I do love an animal-inspired accessory.
Geordie electro-pop singer Lulu James may win the prize for best vocals of the festival. She sounds great on her own songs but when she sang a short acapella version of Sweet Disposition by the Temper Trap it was a special moment. As for her own music, it was enjoyable enough and one track in particular (called something like Carry On John) I'd definitely download, but there weren't any that screamed "hit". However, she's got all the ingredients to be a star (talent, star quality, a cool look) so all she needs now is a good songwriter to take the reigns and help her fulfil her potential.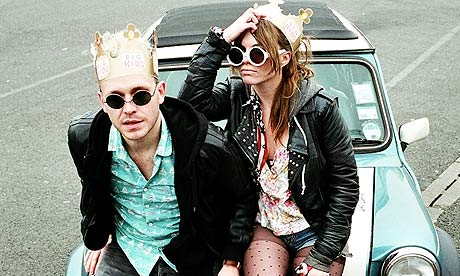 The fact that BIGkids is made up of Ben Hudson aka Mr Hudson and Rosie Oddie (daughter of Bill) will inevitably be the biggest talking point as they start to get more press attention, but they've done well at keeping the music the main focus so far. Much like with Violet, I recommend ignoring any preconceived notions you might have about BIGkids because of the band members' history, and give them a fair chance as they actually put on a fun and energetic show and have a good selection of cheeky, quirky pop tracks. I'm looking forward to hearing the songs again in recorded form.
Haim are three sisters who play indie-rock music and they are effortlessly cool. They are not a pop act, so they probably won't appeal to most TMBP readers, but it's likely you will be hearing a lot about them anyway. They already had some buzz before they performed, and the day after their first show at The Great Escape everyone was talking about them and hoping to attend their second gig. The highlight was the finale of the gig when they ditched their usual instruments and finished their set with a drum each, tipping the audience from appreciation to Haim mania.
While I've not been particularly excited by any of his music so far, I became a big fan of Jake Bugg himself last year when I happened upon footage of him performing at Glastonbury. He was quickly signed to Mercury and is now getting support from both Radio 1 and Radio 2, always a very positive sign. Even knowing what to expect, it was still a shock to hear his unusual voice and incredibly authentic 1960s sound coming from a slightly shy and awkward 18-year-old boy. He's a star in the making and I'm certain that as soon as he gets the right song he will have a big hit on his hands.
I wouldn't normally go to see a DJ live but I wanted to check out French 16-year-old Madeon as I love his Pop Culture mashup, and festivals are all about trying something new. There were some brilliant, uplifting moments in the set where he had the audience in the palm of his hands, but there were also some boring moments and as I already knew Pop Culture off by heart it was weird to hear him play it exactly as it sounds on the MP3. Still, a mashup that features Kylie, Alphabeat and Dragonette can never sound bad! It was a nice finale for the festival but I wouldn't see him again.
I almost went through the whole Great Escape without seeing any Scandinavian artists, but luckily I put that right on the last night with Bernhoft. He's a Norwegian singer who is attracting attention back home with his unique performance style – he sings with an acoustic guitar and loops himself as he goes using a foot pedal. It was a bit strange but interesting to watch and musically much more enjoyable than your typical bloke with an acoustic guitar. I wouldn't download any of his songs as they were a bit samey, but it worked as a live show and definitely impressed the crowd.